Ravenwood Castle
Ravenwood Castle

65666 Bethel Rd.

New Plymouth, Ohio 45654

Phone: 740-596-2606, 800-477-1541

Web Site:

www.ravenwoodcastle.com

Property Overview

Ravenwood offers a wide array of accommodations including castle guest rooms, Medieval cottages, Fairytale cabins or enjoy a true unique camping experience in one of the gypsy wagons on the property. From fine dining in the Great Hall to just relaxing with a cup of tea in our Tea Room. Then before leaving for home, come browse the Gift Shop.
Accommodations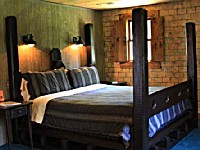 The Duke Dungeon
- Another fun theme room on the lower level with outside door opening onto the terrace. Decorated with faux-stone walls and ceiling king bed and fireplace. Standard tub-shower combo in gray/black bathroom.
Maximum Occupancy: 2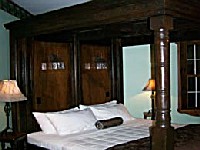 King Arthur Suite
- Large, two-room tower suite, with reproduction 15th-century king bed, gas log fireplace, whirlpool for two with shower, sitting room and outdoor balcony overlooking gardens and forest. Just right for a romantic getaway or special occasion
Maximum Occupancy: 4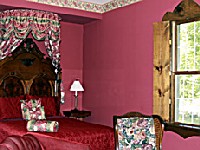 Queen Victoria Room
- Large, first floor room with ornate 1860's Victorian furniture, queen bed, fireplace, oversized 'garden' bathtub, shower, private outside deck overlooking the woods.
Maximum Occupancy: 2
Queen Elizabeth Room
- Large, second floor room with queen bed. fireplace, tub and shower, and outside balcony overlooking the woods. All done in romantic shades of green and gold.
Maximum Occupancy: 2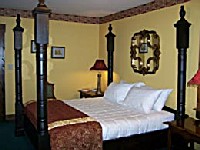 The Shakespeare Suite
- A large first floor room with wide doorways, one King Bed, fireplace, very large bathroom with oversized 'garden' bathtub and shower. Outdoor deck overlooking courtyard herb garden. No steps in or out of Castle from this room.
Maximum Occupancy: 2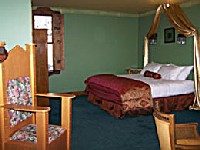 Empress Matilda
- Named for Empress Matilda, the fiesty 12th Century granddaughter of William the Conqueror, this second floor room offers a King bed,a golden throne and a classic fireplace with an outside balcony overlooking lawns and woods.
Maximum Occupancy: 2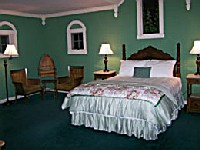 Rapunzel Tower
- A large, romantic, top-of-the-tower retreat with queen bed, a out, and windows on all four sides. Let down your hair if you like Standard tub-shower combo in cute little bathroom.
Maximum Occupancy: 2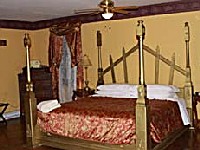 Cinderella Coach House
- Large second-floor suite above the seasonal Coach House Tea Room. Outside stairs. Big stained glass windows, king bed, kitchenette, fireplace. TV/VCR. Connected to the Castle by a garden wall. Small balcony overlooking courtyard and medieval village.
Maximum Occupancy: 2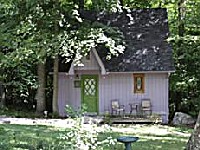 Spinster Cottage
- Part of Ravenwood's medieval village, this cottage has a queen bed upstairs, double futon down. Kitchenette, TV/VCR, Jacuzzi bathtub and shower, and fireplace. Front porch overlooking village lane and Castle.
Maximum Occupancy: 4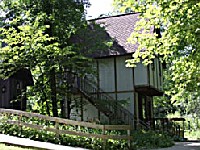 Merchant Cottage
- Located above the Merchant's shop, the Merchant's Cottage is decorated in English brass, chintz, and china. Guests use the top two floors with queen bed and loft sitting room. Kitchenette, antique brass fireplace, TV/VCR, jacuzzi bathtub and shower.
Maximum Occupancy: 2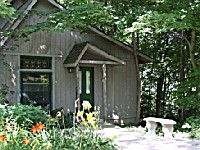 Woodcutter Cottage
- All on one floor for easier accessibility, this cottage has lots of log trim --log headboard on King bed, jacuzzi bath tub and shower, TV/VCR, fireplace, kitchenette. Unique and romantic inside Long back deck overlooks woods.
Maximum Occupancy: 2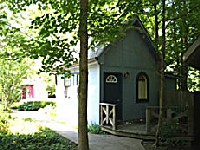 Candle Maker Cottage
- Our coziest little village cottage features a queen bed, kitchenette, VCR, small gas fireplace and a corner whirlpool for two overlooking the woods.
Maximum Occupancy: 2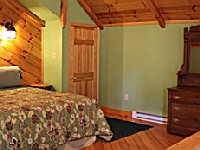 The Clock Tower
- Our two-story, olde world Clock Tower in the Medieval Village offers lots of stained and leaded glass, king bed, double futon, a double corner whirlpool bath with shower, and lots of decorative timber trim.
Maximum Occupancy: 3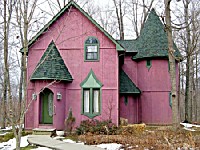 Silversmith House
- Our largest cottage can sleep up to 6 and bristles with towers, turrets and conical roofs It anchors a cliff at the end of the village lane with views in all directions. Tower bath red heart jacuzzi. King bedroom up tower bedroom half bath down.
Maximum Occupancy: 6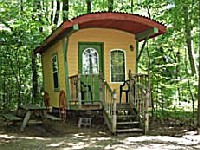 Gypsy King Wagon
- The Gypsy Wagons are wonderful for camping enthusiasts These heated wagons include ceiling fans, kitchenette, and ambiance. The private bath house is a short walk down the path. The rest is up to you Be sure to bring your sleeping bag or air mattress
Maximum Occupancy: 4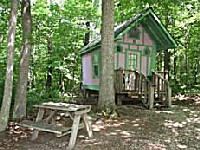 Ezmerelda's Wagon
- The Gypsy Wagons are wonderful for camping enthusiasts These heated wagons include ceiling fans, kitchenette, and ambiance. The private bath house is a short walk down the path. The rest is up to you Be sure to bring your sleeping bag or air mattress
Maximum Occupancy: 4
Featured Amenites
(The most commonly requested Hocking Hills amenities are listed in bold)
• Gas Log Fireplace
• Electric Fireplace
• DVD Player
•

Air Conditioning



• 1 Bedroom
•

King Bed


•

Queen Bed


• Futon
• Shower Only
• 1 Bath
• 1 1/2 Baths

•

Suited for Children


•

No Smoking Inside



Web Site:
www.ravenwoodcastle.com